Brighton Early Music Festival events take place in a variety of exceptional venues across Brighton and Hove (often up to 15 different venues each year), and getting to see some intriguing buildings and locations is part of the Festival's magic. Almost all are easily accessible by public transport and we also list the closest car parks and on-street parking. See Venue Information below for more details.
2021 Venues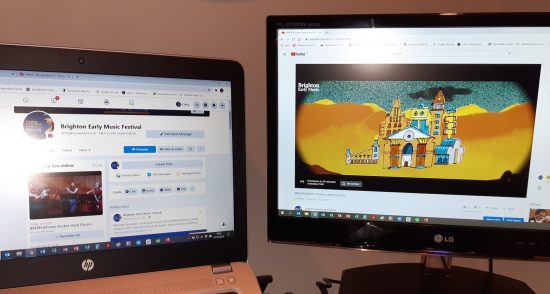 St George's Church
St George's Road (junction Abbey Road), Brighton BN2 1ED 30 minutes' walk from Brighton Station Buses: 1/1A 7/N7 14C to County Hospital stop; 12/12A 14/14A along Marine Parade to Paston Place stop Parking: Pay and display street parking near the church (very limited) but also on Marine Parade to the east. Payment can either be made by the pay-by-phone app or at an on-street meter.
St Martin's Church
Lewes Road, Brighton BN2 3HQ 15 minutes' walk from Brighton Station Train: Brighton station, then bus 48 to Elm Grove stop Buses: 22 25 28/29 48 49 to Elm Grove stop Parking: Limited on-street parking near church - payment by the pay-by-phone app or on-street meter outside 56 Lewes Road (BN2 3HW) 10-15 minutes' walk from London Road car park (BN1 4GE) - pay machine for coins or cards; entrance in Providence Place, approached by car from New England Street via Elder Street.
Venue Information
If you are coming by car, please allow plenty of time for parking. For on-street parking the older pay meters are decreasing in number, but are currently being replaced by new ones that take credit cards. Alternatively, pre-register for phone payment at paybyphone.co.uk or by phoning 01273 458458. An app is available for smartphone users but a smartphone is not essential. You can pay with cash at a PayPoint convenience store – find one by postcode here or see below for those near some venues.
More information, including step-by-step guide to payment for on-street parking and details of multi-storey car parks.Public transport information: southernrailway.com and buses.co.uk
We try to ensure that all our venues have wheelchair access, but regrettably St Mary's House does not have level access to the music room.
For further information and help, please phone 01273 833746.