We're busy planning for our 2022-23 season which will have the theme of TRANSITION. This feels like a particularly apt theme for this point in time, while we're navigating the seismic changes of the past two years, and trying to work out where we can get back to doing things more 'normally', and where some of the changes brought about by the pandemic have been positive and led to new ways of doing things which we'd like to retain.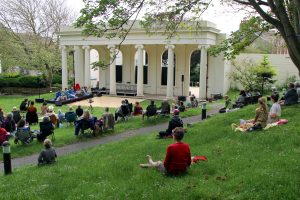 It's clear from audience feedback that our outdoor Midsummer Season was a popular addition to the calendar, and is definitely something we'll be continuing into 2022. With earlier planning we're able to ensure that the programmes we present outdoors are carefully chosen and suited to performance in the open air. We'll also be continuing to film our concerts for presentation online as BREMF@home events, which we hope will enable us to reach more of an international audience, as well as making our concerts accessible for those who find it hard to get out to live events. Even before the pandemic, BREMF was growing from a concentrated autumn festival to more of a year-round programme, and this is definitely a direction we're planning to explore further. It was wonderful to be able to celebrate the festive season with so many of you last December with our first ever BREMF@Christmas event.
2022-23 dates for your diary
Sunday 20 March 2022 – Concert to celebrate Early Music Day featuring BREMF Consort of Voices and members of The English Cornett & Sackbut Ensemble
Friday 24 – Sunday 26 June 2022 – BREMF Midsummer Season
24 June – Music in transit to the baroque with In Echo; Late night polyphony from BREMF Consort of Voices
25 June – Family concert: Endo the Earthworm; Joglaresa with BREMF Community Choir; Hope Cove folk/bluegrass
26 June – Indian music & dance workshop and performance; Fair Oriana celebrate the reigns of two queen Elizabeths
Wednesday 19 – Sunday 23 October 2022 – BREMF Autumn Season
19 October – Scottish baroque with Ensemble Hesperi
20 & 21 October – Public masterclass and Italian early baroque recital with members of La Fonte Musica
22 October – BREMF Live! Young Artist Showcase &  Clubnight; Inspiring Bach with Spiritato & The Marian Consort
23 October – French baroque programme with Ensemble Molière and singers Angela Hicks & Kieran White
November 2022 – BREMF@home online events
16 & 17 December 2022 tbc – BREMF@Christmas
Whether you attend live or online, indoors or outdoors, we hope that 2022-23 will offer something for everyone to enjoy!